| | | | |
| --- | --- | --- | --- |
| | 4-7 August 2002 | Images page one | |
On August 4, 2002 the Witness for Peace/SOAW POC Colombian Delegation flew to Popayan in Cauca, a department south and west of Bogota. It was in this city that we met with many organizations working hard for a more just life for themselves and the future of their community and their country.


We visited with many union organizers; the minister of peace; a mayor whose life was in danger (as are all the mayors in that department); CSPP; ASFADDES; CRIC, a regional indigenous council, etc. We heard stories of regional and federal social programs along with their stories of obstacles and pain. A strong message heard throughout our meetings was "We need to globalize solidarity."

We heard over and over how the fumigations and military aid of "Plan Colombia" are destroying their lives and land. One union organizer referred to it as the "fumigation of life". These strong and dedicated people had many other ideas of how to create a "Plan of Life" but the people in power, the ones with the "guns" don't listen to the people whose lives are being affected.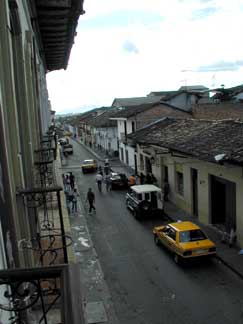 View from our balcony upon checking in to the Hotel Achalay. "El Hotel de Popayan para Usted."
Henry Caballero, Cauca Minster of Peace.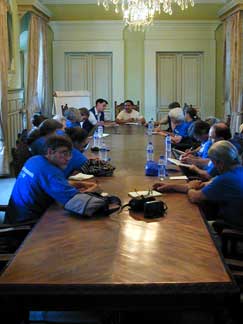 Meeting with Cauca Minister of Peace in the Stateroom. We learn of the alternative to Plan Colombia being advanced by several departments in Colombia - the Plan of Life.
(read more - click here >>)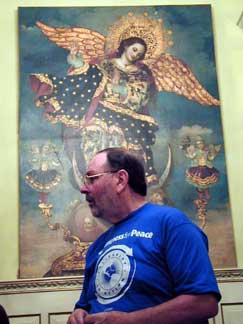 Delegation member and former POC Ken Kennon thanks our host, Henry Caballero at the end of the meeting.
CSPP - Committee in Solidarity with Political Prisoners. Our accompaniment, Marylen, is on the right.
(read more - click here >>)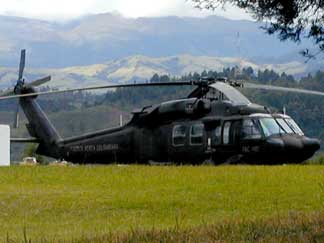 We met with the "Jose Hilario Lopez" Infantry Battalion in Popayan and were allowed to photograph the Blackhawk helicopter that was sitting at the base. (Cost of a Blackhawk: $17 Million.)
(read more - click here >>)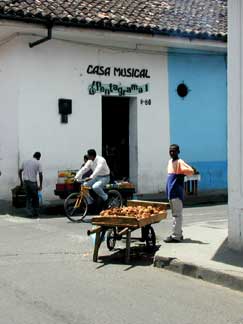 We spent a large part of a day in Pedregosa meeting with campesino leaders from the Cajibio region.
(read more - click here >>)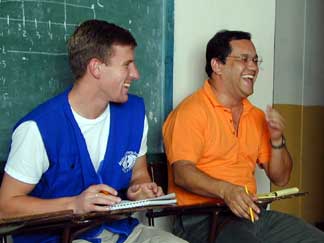 Meeting with CUT, the United Confederation of Workers, a labor union. WfP I Team member Ryan Calkins shares a funny story with union representative Rodrigo Rosco.
(read more - click here >>)
Next page - click here >>
Additional images in this series: go to -
[ 1 ]x[ 2 ]x[ 3 ]